John McFarland
Managing Director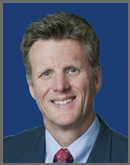 Receivership

Asset Management

Land and Building Projects

Entitlement Procurement
MA, Regional & Community Studies, Western Illinois University

BS, Public Administration, University of Wisconsin Eau Claire
John McFarland, Director joined Chicago Capital during 2008 following 23 years of experience in real estate development. He has diverse experience in acquiring, entitling, and managing successful land and building projects.
Previously, Mr. McFarland served in two positions at Town and Country Homes, one of the top six residential developers in the Chicago area. During 2001 through 2008 he served as Vice President of Land Acquisition and Development responsible for managing a staff of 12 whose focus was to entitle 750 home sites per year. From 1998 through 2001 he served as Director of Planning where he was responsible for a staff of 8 whose focus was new community entitlement and land planning.
Prior to that, Mr. McFarland held three positions with progressive responsibility at Baxter Homes. During the period from 1993 through 1998 he served as Vice President, Development and Construction, where he managed the companys land entitlement, development, sales, and home building activities. He served as Development Manager from 1990 through 1993 with responsibility for directing land acquisition, development, and sales. He served as Project Coordinator from 1985 through 1990 responsible for managing the finish construction activities for an apartment complex, a condominium conversion, and a custom home development.
Mr. McFarland received a Masters Degree in Regional and Community Studies from Western Illinois University during 1985. He received a Bachelors Degree in Public Administration from the University of Wisconsin Eau Claire during 1983.
contact details
120 East Ogden Ave.
Suite 214
Hinsdale, IL 60521
feedback form
If you'd like a free consultation, please start by completing the form: